Dear Members of the All Saints Verein,
we will hold a meeting to discuss recent developments regarding a potential lease agreement with the Zehlendorf Bezirk.
Meeting: After Mass on Sunday, 9th of October in the Fellowship Hall.
Please ensure you have paid your All Saints Membership of 5€ (required to be able to vote)
——————————————————————————————————————————————————————————————
Wir werden ein Meeting abhalten, um die jüngsten Entwicklungen in Bezug auf einen möglichen Pachtvertrag mit dem Bezirk Zehlendorf zu besprechen.
Meeting: Nach der Messe am Sonntag, den 9. Oktober im Gemeindesaal.
Bitte vergewissern Sie sich, dass Sie Ihre All Saints-Mitgliedschaft von 5€ bezahlt haben (erforderlich, um abstimmen zu können)
Best regards/Mit freundlichen Grüßen
The Board of the Friends of All Saints e.V.
Are you longing for peace? Jesus longs to be your peace. Come to the Belssed Sacrament Chapel at All Saints.Find the pdf file here.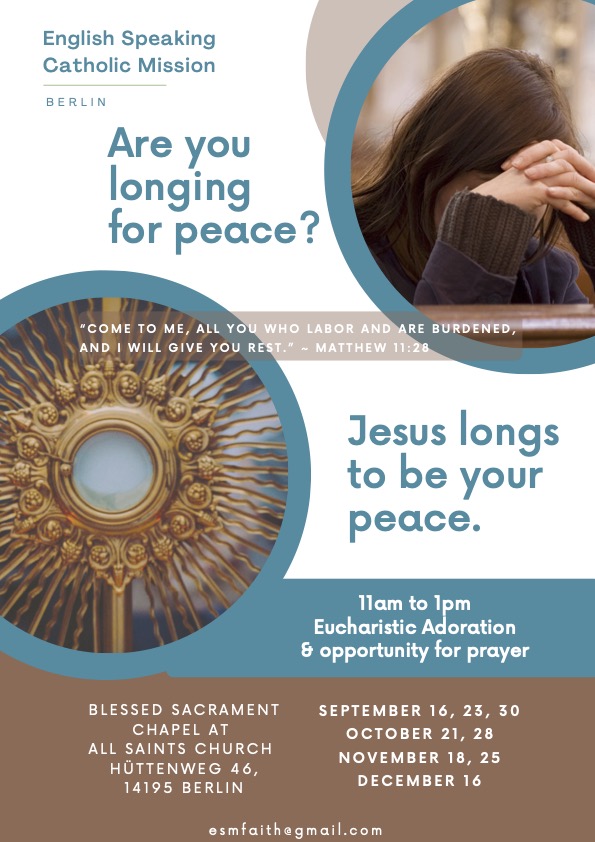 Last year during Covid 19 it wasn't possible to celebrate the foundation of the new parish Johannes Bosco Berlin Southwest. All Saints is also a part of this parish. Therefore we take the opportunity to have a party now - mark your calendars: Pentecost Monday 6th June 2022.
Archbishop Heiner Koch is presiding the Eucharist @ 2 p.m. St Holy Family (@Kornmesserstr. 2, 12205 Berlin).
Parish party in the garden of St Holy Family @ 3 p.m.
Look forward to having various activities, coffee, tea, cake, ice cream and more.