Are you longing for peace? Jesus longs to be your peace. Come to the Belssed Sacrament Chapel at All Saints.Find the pdf file here.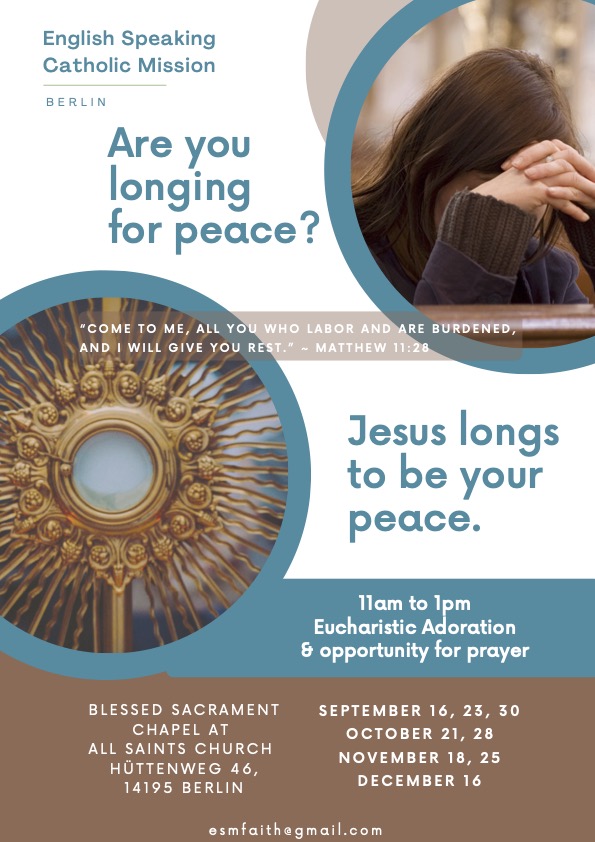 Last year during Covid 19 it wasn't possible to celebrate the foundation of the new parish Johannes Bosco Berlin Southwest. All Saints is also a part of this parish. Therefore we take the opportunity to have a party now - mark your calendars: Pentecost Monday 6th June 2022.
Archbishop Heiner Koch is presiding the Eucharist @ 2 p.m. St Holy Family (@Kornmesserstr. 2, 12205 Berlin).
Parish party in the garden of St Holy Family @ 3 p.m.
Look forward to having various activities, coffee, tea, cake, ice cream and more.
Thursday 14/04/2022 Holy Thursday in St. Bernard's @ 7pm Fr. D. Lenfers MAfr
Friday 15/04/2022 Good Friday in All Saints
2 pm - Stations of the cross Fr. S. Ajunwa
3 pm - Celebration of the Lord's passion Fr. W. Felber SJ
Saturday 16/04/2022 Holy Saturday in St. Elisabeth's @ 9pm Fr. S. Ajunwa
Sunday 17/04/2022 Easter Sunday in All Saints @ 10am Fr W. Felber SJ