Ou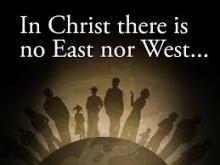 r annual English-speaking Mission Day (ESM-Day) will be held on Saturday, August 31st at St. Bernard's, Königin-Luise-Straße 33, 14195 Berlin.
The event will commence with Holy Mass at 6 p.m. Festivities will continue in the community hall. This is a great opportunity to celebrate our Unity in Diversity within the Mission family by incorporating musical and culinary contributions from the different ESM communities!
If you would like to help, please contact the This email address is being protected from spambots. You need JavaScript enabled to view it. or This email address is being protected from spambots. You need JavaScript enabled to view it..
Any confirmed adult who wishes to minister to our children and youth by teaching the faith, particularly in preparation for the Sacraments of Holy Communion and Confirmation, is invited to contact Buck Chisolm / Fr. Sylvester over the summer break for more information!
are located in the hallway on the hangers and also in a box. Please check for any items that may belong to you. Later this year, all unclaimed items will be donated to charity.
The All Saints Catholic Community takes great pride that our congregation comes from all over the world. This brings to us a multitude of views and also introduces us to liturgical practices from different traditions with distinct customs.
One such custom may raise the question:
"Should I stand, kneel or even sit during the Eucharistic prayer (the consecration of bread and wine) during the service at All Saints?"
The answer is: "Do whatever you are most comfortable with, determined by what you have done in the tradition or parish in which you grew up."
We hope this helps you to participate in our celebration the way you are used to.
If so, would you consider helping in one of these ways?
Hospitality – during the summer we just need to have someone make coffee and put out the cakes.
Water the garden – from time to time help water the flower beds, especially if we have some hot days. See someone in the church office to volunteer and thank you very much.
Lectors – If you would like to be our lector during the summer months please contact Johannes Ploog or Buck Chisolm. Lectors need to be at church 30 minutes prior to Mass to make preparations. Thanks to all!